Cindy Bell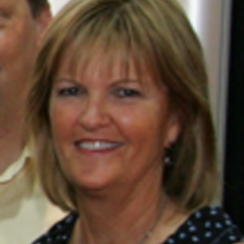 Cindy Bell
Executive Vice President
Corporate Development
Genome Canada
150 Metcalfe Street
Suite 2100
Canada
tel:
work
(613) 751-4460 x 118
Add to address book
Cindy Bell joined Genome Canada in August 2000. From 2000-2008 she held the position of Vice-President, Genomics Programs in which she was responsible for providing policy and strategic advice on scientific and other aspects of Genome Canada's programs. This included overseeing and managing the peer review process used to establish the research program of Genome Canada. In her role as Executive Vice President, Corporate Development she provides leadership in the development and implementation of strategic, initiatives and approaches to enhance Genome Canada's business model and secure funding to support genomics research in Canada.
Prior to joining Genome Canada, Dr. Bell was a Deputy Director in Programs Branch at the Canadian Institutes of Health Research from 1994 to 2000. At CIHR she managed a number of research programs and was involved in policy development and implementation.
From 1986 to 1994, Dr. Bell was a researcher at the University of California, Riverside. Her research focused on investigating the basic defect in the genetic disease, Cystic Fibrosis. She obtained her Ph.D. in Genetics from McGill University in 1986.
Mme Cindy Bell est entrée en fonction à Génome Canada en août 2000. De 2000 à 2008, elle a occupé le poste de vice-présidente, Programmes de génomique. À ce titre, elle devait fournir des conseils en matière de politiques et de stratégies sur les aspects scientifiques et autres des programmes de Génome Canada. Elle a notamment supervisé et géré le processus d'évaluation par les pairs utilisé pour mettre en place le programme de recherche de Génome Canada. À titre de vice-présidente, Développement corporatif, Mme Bell dirige maintenant l'élaboration et la mise en œuvre d'initiatives et de moyens stratégiques qui amélioreront le modèle d'affaires de Génome Canada et lui procureront du financement pour appuyer la recherche en génomique au Canada.
Avant Génome Canada, de 1994 à 2000, Mme Bell a occupé les fonctions de directrice adjointe à la Direction générale des programmes des Instituts de recherche en santé du Canada. Elle y a dirigé divers programmes de recherche et participé à l'élaboration et à la mise en œuvre de politiques.
De 1986 à 1994, Mme Bell a été chercheuse à l'Université de Californie à Riverside. Ses recherches ont porté sur l'anomalie de base de la fibrose kystique, une maladie génétique. Elle a obtenu un doctorat en génétique de l'Université McGill en 1986.